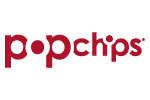 Popchips is the newest addition to the GEMCO family. A brand that is revolutionizing the snacking industry. With a unique process of heating up potatoes in a pasteurized chamber and releasing them, Popchips has made snacking healthier.
Popchips was established in 2007 and rapidly grew in global popularity, the brand was also rated by Forbes as among America's top 20 most promising companies in 2011.
Popchips boasts a portfolio of over 15 different flavored chips ranging from classic barbeque to exotic Thai sweet chili; andhas successfully filled a void in the snacking industry, promising all the flavor with half the fat.