Brand Family
Franks Red Hot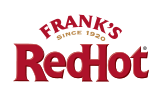 The rich heritage of Frank's RedHot dates back to 1918 when pepper farmer Adam Estilette partnered with Jacob Frank in New Iberia, Louisiana, to create a sauce perfectly spiced with the rich flavor of cayenne peppers.
Two years later, in 1920, the first bottle of Frank's RedHot emerged from Estilette's pickling plant it is known as the primary ingredient in the first buffalo wing sauce, concocted in 1964 by Teressa Bellissimo at the Anchor Bar and Grill in Buffalo, New York.It is also used in Wish – Bone's new Buffalo Ranch dressing.
In 1977 Frank's RedHot was sold to Durkee Famous Foods. Since the purchase of the Durkee brand in 1995, it is owned by Reckitt Benckiser. Frank's is produced in Springfield, Missouri.  As of 2016, the brand is owned by French's, a subsidiary of Reckitt Benckiser.