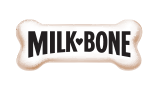 The original Milk-Bone® dog snack was created in 1908, by the F.H Bennett Biscuit Company at a bakery in the Lower East Side of New York City.
The first dog biscuit treat made in the United States, Milk-Bone gave pet parents a little something to show their dogs how much they care.It was love at first bite. The bone shaped treat and the box with a dog quickly became icons. Over the next few decades, Milk-Bone continued to grow and reward good dogs by introducing new flavors, sizes, and treats.
Today, Milk-Bone gives you more than 20 different varieties of treats so you can show your best friend how much you care. All made with love.